Acadia HR News & Events
---
Pension Presentation
Representatives from the NS Pensions Corp will be providing two information sessions on the Public Service Superannuation Plan on Thursday, February 25, 2016. Active members and their spouses are encouraged to attend. Please register for one of these sessions by clicking here.
Posted on February 5, 2016
---
T4 Season in Approaching!



Human Resources staff are preparing to process the 2015 T4's. It is very important that if you have moved in the past year you provide HR with your up-to-date mailing address so that your T4 will be generated with the correct information. Please fill out the Employee Information Form and submit to HR.
Sign-up today to receive your T4 Electronically
The advantages of online T4s:
1. You can view/print your T4 from the privacy of your own home at your convenience.
2. You will also be able view all T4s since 2010 online and can re-print any or all at your leisure.
3. Eliminates any worry that your T4 may get lost in the mail system.
4. Eliminates any worry about mail theft/fraud.

Please follow the steps below to activate:
1. Visit http://webadvisor.acadiau.ca
2. Login with your Acadia username and network password.
3. Go to the Employee's menu.
4. Select the "T4 Electronic Consent".
5. Select the option you desire and submit.
Human Resources will inform the campus when the 2015 T4s are completed.
Posted on January 11, 2016
---
New from your EFAP - Online Group Counselling
Online group counselling is a form of therapy where multiple participants discuss their similar issue(s) with a counsellor in a private and secure online setting. Group interactions allow participants to build relationships, receive feedback on how to meet goals and overcome challenges and gain encouragement from others.
Effective Mental Health Support
Research shows that group counselling creates a positive environment for learning, sharing and behaviour change. Online Group Counselling allows you to access to immediate help from a counsellor, and sharing and support from like-participants.
Structure of the Online Group Counselling Program
Four one hour sessions
Eight to ten participants (from different employer organizations) per group
Secure interactive website that is accessible via workhealthlife.com on all digital platforms (PC, tablet, smartphone, etc.)
Real-time interaction with a counsellor and other group members
Group work that includes in-session online activities, homework and self-guided learning modules
Online Group Counselling for Anxiety
Find confidential and convenient support for anxiety with Online Group Counselling through your EFAP. For immediate assistance, contact us at 1.800.387.4765 or visit workhealthlife.com
Posted December 8, 2015
---
Retirement Announcement
It's with sincere gratitude for her service that we are announcing the retirement of payroll administrator Terry Turner-Mitchell at the end of October. Terry has been with Acadia University for over 29 years ensuring employees received their pay accurately and on time.

Please join us at Bancroft House on Thursday, October 29, 2015 from 2:30-4:00pm for coffee and cake to celebrate Terry's retirement. On behalf of everyone here at Acadia we wish Terry all the best in this new phase of her life.
Michelle Grovestine has agreed to fill the role, on an interim basis, as biweekly payroll administrator upon Terry's retirement. Let's also extend a warm welcome to Michelle!
Posted on October 22, 2015
---
My Good Health
Did you know you can create your own personal profile for customized advice, information and tips on how to be and stay healthy with Medavie Blue Cross My Good Health? This is an interactive web portal offered through the Acadia group benefits plan that includes an interactive web-based health risk assessment tool designed to give you an overall snapshot of your current health and identify risk factors. Making healthy decisions can help keep you happier and more productive - as well as help keep plan premiums affordable today and for future generations to come. Visit My Good Health today to access this tool.

Posted on October 8, 2015
---
2015 Summer General Assembly
The Acadia community celebrated retirements and career milestones of 35, 25, and 10 years of service at the Summer General Assembly held on Thursday June 11, 2015. Please click here to view the invitation, listing of all of the award recipients.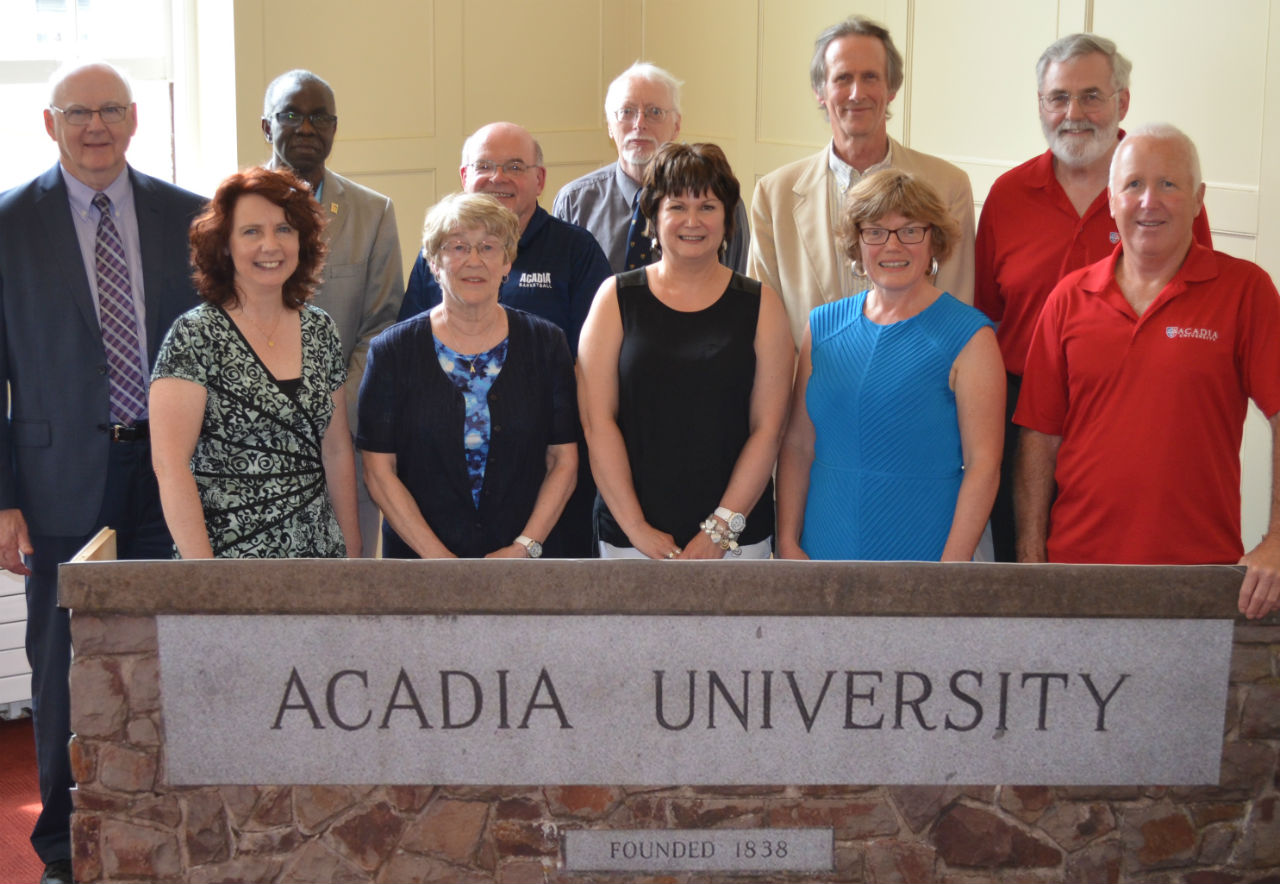 Acadia Retirees: (front row, left to right) Jaye Cartney, Lana Ashby, Orlene Bligh-Coldwell, Pamela Dimock, Dave Schultz. (back row, left to right) David Watt, Lionel Moriah, Bev Greenlaw, Tony Thomson, Tom Herman, Bryan Latta.
Posted on June 16, 2015
---